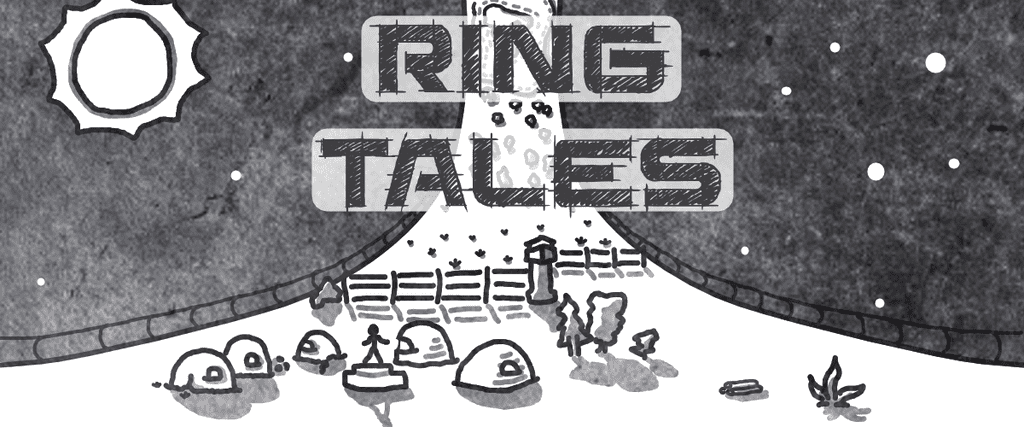 In a distant universe there is a tiny planet. Near which the Elder Builders managed to build an artificial ring – a narrow strip of land with its own atmosphere and universal biotope suitable for most of known intelligent beings. The most ambitious construction in the universe should serve as gigantic trading center, connecting every life form. However an intergalactic war happened and project of trading center has fallen. Lots of beings were left, imprisoned on this artificial ring and
only a few generations were enough for survivors to create their own history, social hierarchy and even religion. You all live in this world – descendants of the traders that didn ́t leave and were left to live here on the Ring.
Hello. I'd like to present you a game that was originaly designed for a 9-card nano game contest on Board Game Geek, but I had multiple personal reasons/self-given goals why I tried to make such game. The original idea sparked during road-trip, where I was thinking, why don't we use this free time by some roleplaying game. I found multiple games suitable for such limitations, however there was still issue with the most important person - a driver. The original idea was sparked and works on game that requires no dice rolling nor character sheets started.
In order to maintain security of travellers, I think no game is safe enough to both play during car ride and be secure for driver to participate. In fact, I strongly recommend NOT TO PLAY this game during road trip if you are driver. However I believe, rest of the personal goals was achieved.
Ring Tales
is a storytelling game for 2 to 4 people that will colaboratively try to tell a story. The story itself is divided into chapters and each chapter is tied into one location on the Ring, with a title defined before the very chapter begins. Each player takes control over one character that decides to go on a journey to answer the question that is the same in every game:
After hundreds of years a ship landed on the Ring. Together we seek out why.
You already might find some similarities with Fall of Magic - a great storytelling game made by Ross Cowman - and I am not hiding the main source of the inspiration. However, instead of the prompts, Ring Tales relies on more classic "no, but - yes, but" resolution mechanics, that are provided by cards. One of the player is always a Teller - he or she does not control their character directly. Instead, they introduce some sort of obstacle that all the characters have to overcome. Each obstacle can be defeated by choosing the correct approach and players need to match their characters' approaches with Teller's. There are four approaches in total, so Teller has to describe the obstacle in a way the rest of the players might find the correct approach. But beware the Threat (or call it Karma), that rises every time players choose the best approach!
There are more things that I could write about, but they are all written in the rules; for now, let me present some of the key things I am proud the Ring Tales contains:
- all the mechanics are obtained in 9 cards, supporting 2 to 4 players
- dice-less resolution mechanic
- rules for 2-player play, introducing semi-autonomous Dummy player
- variable map of the Ring
- "boardgamey" feeling during play that makes it easier for new players to hop-in
- organized gameplay, making ti able to play all the game in 3 hours or to split it into multiple sessions
If I got your attention, please, take a look at PnP file and rules that are currently in version 0.45. You may find them in the shared
Google Drive folder
.