[Panty Explosion] Schoolgirl name signs!
Every now and then I feel a bit clever. The last time it happened was when I came up with the idea to combine school name signs (you know, the folded paper ones you put on your desk?) and premade characters for playing Panty Explosion at conventions (or at home for that matter). John Harper's probably to blame in some respect since he's got us all thinking about neat little layout tricks.
Printed and folded, my schoolgirl name sign looks like this:
It's a bit hard to see but the most vital part is five pairs of traits where you pick either or: half of them are pretty regular "good girl" traits and while the other half should give a little more friction (I've noticed that characters that are too nice can be a problem in Panty Explosion). At least two should be from the later category I think You just underline or circle the ones you choose. None of them contradicts each other so they can all be used as character inspiration/background even if you only actually have five of them.
The strongest element is set but the rest of the elemental dice the player can distribute freely. I also decided not to include Agendas since I think that might be the most important part of the game. (I also suck at coming up with good Agendas)
The whole idea was to give the players a chance to at least co-create their characters and to help them easily keep track of those funny names that the other characters have. I'd also encourage the players to doodle stuff on the front of the sign - things that signal what their character is like.
Now, I've babbled enough. Here's a pdf that includes five almost-ready-to-play Schoolgirl name signs!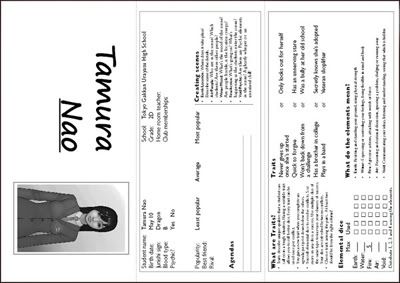 Schoolgirl name signs
(format is A4 - if there's need for a letter sized version, just poke me)