This is something I proposed to my group today but I'm not sure myself what to think. I want to hear from them.
Currently we have this: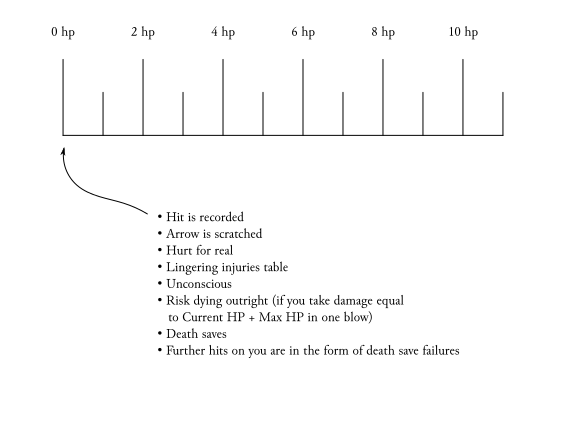 And the proposal is to go to this:
A while ago I talked to @Paul_T about how with our rules there is no chance of playing out the trope of "your leg is chopped off but you're still awake". You faint instantly if you get seriously hurt. I think there is a lot of good to that (veiling the gore of combat) but a way around it could be to introduce sort of a "fainting buffer"; a zone of HP where you are hit but not down.
I started out sort of inspired by PP/HP, or HP/FP, or Wounds/Vitality (same thing different names) but ended up with something more akin to 4E's "bloodied" idea, except at 3 HP instead of at half HP.
The intent is for it to happen rarely and matter rarely.
I also proposed some alternative numbers instead of 3:
Con bonus
Max HD
Current HD
I like 3 the best though.
I'm not sure what I think. Split it out to some things happening at 3, some at 0, or keep the status quo of everything happening at zero.
This is gonna be something the group decides but I thought I'd report my current thinking & my process here in case people were curious.