Hello everyone,
I would like to announce that the EVENT RPG Kickstarter project is now live:
EVENT - a minimalistic & story-driven tabletop Role-Playing Game
Thanks to everyone who'll want to support it!
IMPORTANT NOTE
: The
Creative Common
edition of the game manual, containing everything required to play, is already available for free download in italian and english language: the PDF links are available in the Kickstarter project page. This means that
you don't have to back the crowfunding or to pay anything to get the full game!
The Kickstarter page is quite self-explanatory, however - in case you want to know more about EVENT - here's a brief introduction explaining the game concept and key features.
Anyone with some RPG experience knows that the above aspects can play a decisive role for a successful session: complex ruleset, slow mechanics and slow system of resolution of actions and interactions are often cause of frustration, thus resulting in a disappointing gaming experience for gamemaster and players.
To address these issues, we came out with the following:
* A
skinny manual
(less than 30 pages);
* A
limited amount of core rules
, easy to learn & remember;
* A
distinctive Character creation System
, based upon a sharp Questions & Answers mechanics;
* A
strong narrative premise
(the
Event
) that will motivate the players to act as a group, providing their characters a common goal.
* A brand-new
character creation system
(The
Three Questions
) that will allow players and gamemasters to build PCs and NPCs in few minutes using a narrative-based approach.
* An
efficient Actions & Interaction outcome resolution ruleset
, featuring a hybrid approach containing a mix of narrative choices, auctions and dice rolls;
*
Innovative contest-resolution mechanics
that will force players to choose between winning a contest or narrating its outcome (or try to do both things), similar to those featured in most auction-based Board Games.
The last two points are especially important, as they both empower the players with the chance to partially take control of the story, thus becoming the gamemaster for a short while to conceive and narrate what happens. This "collective management" of the game's story is definitely the most interesting aspect of the game: such innovative approach is also well highlighted within the manual, starting from the first sentence:
"EVENT is a game system designed to collectively manage the actions and interactions of a variable number of characters played by players and / or the gamemaster from a given event. The combination of these factors will lead to the natural definition of a story within the context of reference, which is called the setting."

In order to play Event you're going to need: a group of friends, a handful of 6-sided dice, some paper sheets and at least one pencil. As in most RPGs, one of the players, known as the gamemaster, will take care of the core elements of the story, while the others, to whom the manual simply refers as players, will play the role of a single character apiece.
A big thanks to those who will support our campaign.
This is the EVENT presentation & tutorial video, which illustrates some of the most original and innovative aspects of the game system: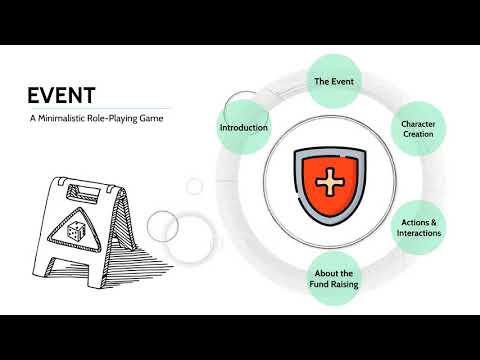 Have a good game!