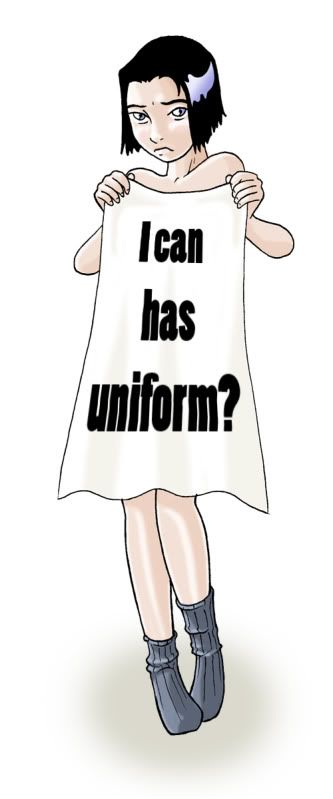 Update: Contest deadline changed to Jan 31st!Contest:
Design a school uniform for the student characters of Panty Explosion, Classroom Deathmatch and other Atarashi Games rpgs! We're looking for a single high school uniform we can use in all of our Japanese high school themed games. This is your chance to design an iconic uniform that will be worn by the characters in every Atarashi Games rpg!
You don't have to be a great artist to enter this contest. We're looking for a great design, not necessarily a great drawing. All you need to do is come up with the best school uniform design you can! Use pencils, pens, MSpaint or whatever tools you're comfortable with!
While we're mainly looking for a basic uniform for female students, feel free to include summer and winter variants of the uniform, gym uniforms, school swimsuits and anything else you can think of. And don't forget the boys!

What makes a good uniform?
That's for you to decide! We're looking for something kind of along the lines of the traditional sailor seifuku, but feel free to go nuts and take your design in a different direction! A neo-military look, a semi-futuristic uniform or something a little sexy might look just as good as a really nice traditional design. Remember, we make games about psychics that blow peoples heads up, so don't feel like you can't submit a design that's just completely bat shit insane.
Here are the contest requirements:
- Create a school uniform design!
- Send it as a digital file to Jake Richmond at Jake@atarashigames.com
- The deadline is Jan 31st, 2010. Get to work!
- Check out the official contest thread and as well as some uniforms I like from different anime, manga and films at
GoPlayPDX.com!

The prize:
-All submissions will be featured in a special gallery at Atarashigames.com.
-The winning submission will be used in every Japanese high school rpg published by Atarashi Games, including the new versions of Panty Explosion (available later this year) and Classroom Deathmatch!
-The creator of the winning submission will be credited in each Atarashi Games rpg where their design appears, and will receive complimentary copies of those products in both PDF and book form.
- That's it. If we meet in person I'll also buy you a drink and give you a big high-five!
Thanks for participating. I'm looking forward to seeing what you come up with!Jake Richmond
atarashigames.com
Important Update:
We'll be giving away a copy of the new Panty Explosion PDF (when it's released in May) to everyone who enters the contest!
I meant to mention that in the original contest description, but it looks like it slipped my mind. So let me say it again:
Enter the contest, get a free Panty Explosion PDF!

The contest doesn't end until Jan 31st, so you still have plenty of time to enter!